Thread Molds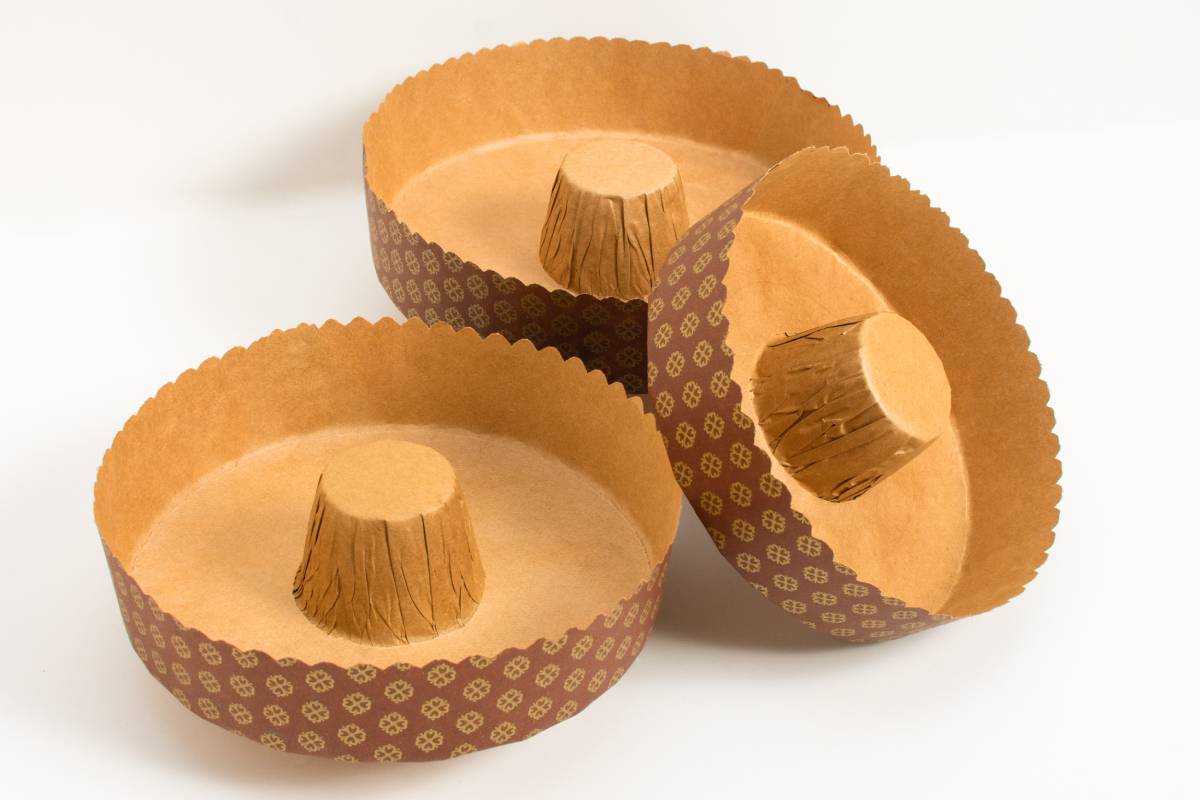 SPECIFICATIONS
Side: 100 grs calendered or monolucent pure kraft paper.
Background: 100 grs monolucent pure kraft paper.
Cone: 80 gr supercalendered pure kraft paper.
Printing: in 2 (two) colors.
Reasons: Standard flower or to order according to customer specification.
Referential presentation: boxes of 1000, 800, 600 and 100 units.
General technical data / standard and customized production.
All molds are made of pure Kraft paper, suitable for cooking, resistant to temperatures from -40°C to +220°C.
Intended use: Baking molds for industrial and domestic use that can be used in traditional or industrial ovens, in microwave ovens and in freezers.
The side is printed with inks resistant to fatty substances and alcohol.
All the materials used (paper, adhesives and ink) are approved to be in contact with food.
Possibility of customizing the product with the client's name and/or graphic design.
Origin: National
Destruction of special product: In case of working with paper printed with graphics personalized by the client, it will be treated as follows:
A). The printing of raw material (kilograms of paper) as well as the preparation of the finished product are organized based on the quantities requested by the client, in order to avoid any surplus. Even so, if there is a surplus of paper printed with personalized graphics, it will be treated as a non-compliant product, confiscating it as scrap to prevent it from being used by mistake.
B). The molds that are unsuitable at the time of their conformation are destroyed and discarded by the operator of the conformer going to scrap.
Packaging and distribution: The container is a cardboard box, in the case that the box goes on a pallet it is wrapped with film.
Storage: Low-risk baking molds. Store in a dry and packaged place. Do not stow more than five boxes.
Consumer group: the paper mold has no limitations in terms of consumer group by itself.
Shelf Life: Five years under intended storage conditions.
CODE
BASE Ø
(mm)
HEIGHT
(mm)
CAPACITY
(gr. approx.)
ROS180X50
180
50
ROS200X50
200
50
ROS220X50
220
50
Legal Requirements: Containers authorized by INAL. MERCOSUR/GMC/RES Resolution No. 56/97 MERCOSUR TECHNICAL REGULATION ON POSITIVE LIST FOR PACKAGING AND CELLULOSIC EQUIPMENT IN CONTACT WITH FOOD applies. MERCOSUR/GMC/RES N 15/10 MERCOSUR REGULATION ON DYES FOR FOOD PACKAGING (POSITIVE LIST). ARGENTINE FOOD CODE CHAPTER IV Article 186 BIS.